Sic Bo – Online Casino Game
Since many people don't know the dice game yet, we want to show them the relatively simple rules, the history and also the best strategies. Surely they will be enthusiastic about the game.
Sic Bo History
As the name Sic Bo already suggests, the game has no European origin. This can be traced back to China. The roots lie in a centuries old game in China, which was even played with stones. From there it started its journey across Asian. At the beginning of the 20th century, Chinese emigrants took The Game across the pond to the United States.
That is one story. Our English friends claim, however, that they brought the game Grand Hazard from the Kingdom to Shanghai and Hong Kong, and from there Sic Bo was born.
Originally Sic Bo is played with special dice where the eyes are replaced by symbols. This traditional variant can still be found today in Asian casinos in Macau in about one third of the Sic Bo tables. In the terrestrial casinos in our latitudes, however, the dice game is very rarely found. However, it is becoming more and more popular in online casinos. Some providers even have live tables in their portfolio.
Sic Bo Basic Rules
The basic rules are relatively simple. The dice game is played with three 6-sided dice. You always play against the bank. Before each roll you can bet on one or more results on a tableau. Basically, you can place as many bets as you like, as long as you do not exceed the table limit – and of course your own limit.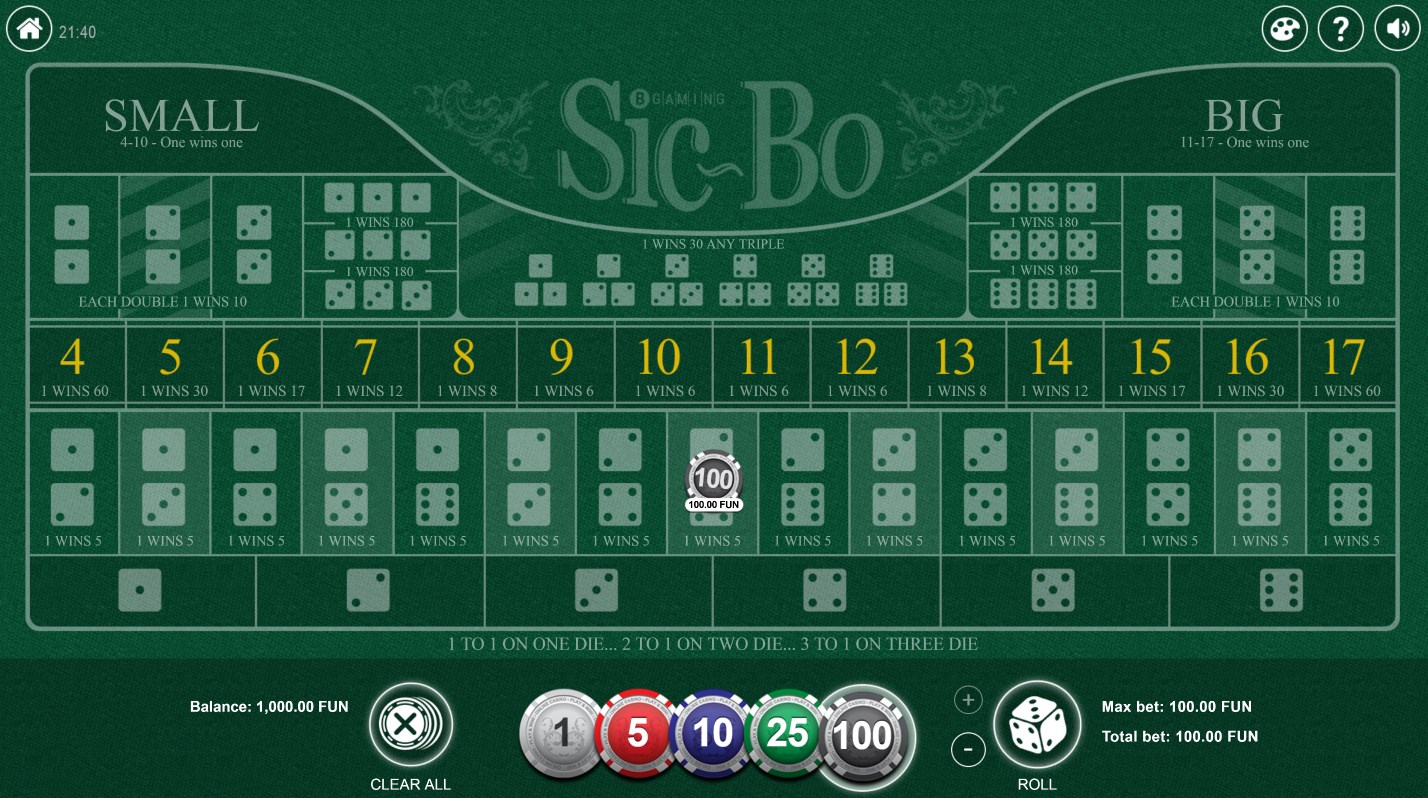 Betting
The gaming table on which you place your bets looks a bit confusing at first glance. But after a few games you will find out that it is logically structured. In addition, all possible bets are also shown on it with the respective sides of the dice, so that you can find your way around immediately. But we still want to list the different betting options for you:
Small Numbers and Big Numbers
If you bet on small numbers, you win when the dice show four to ten points. If they show three or eleven to 17 points, they lose. If you bet on large numbers and the dice show eleven to 17 points, you win. You lose if the sum is 18 or if it is between three and ten points. However, triplets may not be rolled on either bet. If this is the case, you lose. Small & Big Numbers are paid at 1:1 odds
Single Number Bets
You can bet that a specific number will appear on the dice, i.e. the numbers between 1 and 6. Your payout depends on how often the number appears. For example, you win a 1:1 odds if the number appears on only one die, 2:1 if it appears on both dice, and 3:1 if it appears on all three dice.
Two Dice Bet
In this bet, you predict 2 of the 3 dice, for example 2+3, 6+4 or 1+5, and if you win, your amount is paid at 5:1 odds.
Double Bets
Similar to a pair in poker, they bet that at least two dice will show the same number, i.e. 2+2, 3+3, 4+4 and so on. If this happens, you will get a 10:1 odds.
Triple Bets
You can also bet on three equal numbers. It is possible to bet generally on three of a kind, so it doesn't matter which eyes, or on a specific three of a kind, for example 4+4+4 or 2+2+2. In the first case, the winnings are paid out at 30:1 odds. When betting on a specific set of three, a win is rewarded at 180:1 odds.
Total Number Points
Here they bet on the sum of all eyes on the three dice. The different sums have different odds. This is because the probability of rolling a 9, 10, 11 or 12 is higher because there are more possible combinations than a 17 or a 4.
If 9, 10, 11 or 12 is rolled, winnings are paid at 6:1 odds.
If 8 or 13 is rolled, winnings are paid at 8:1 odds.
At 7 or 14, wins are paid at 12:1 odds.
At 6 or 15, wins are paid at 17:1 odds.
At 5 or 16, wins are paid at 30:1 odds.
At 4 or 17, wins are paid at 60:1 odds.
Please note that the odds given here are the standard odds. Depending on the provider of the game, they may differ slightly from the odds given here. In general, the odds for Sic Bo in the Live Casino are somewhat lower than in purely software-based casino games.
Sic Bo Strategies
Since this is a pure game of chance there is actually no real strategy. However, many die-hard Sic Bo players use the Martingale strategy, as it is also used in Roulette. This means nothing else than to go with the smallest possible stake the lowest risk and if you do not win the stake to double. You repeat this until you win, then you start again with the smallest bet.
As with all games of chance, you must be aware that the house always has an advantage in this game of dice.
The fun comes mainly from being able to place different bets with different risks. If you focus exclusively on the big odds, you need a lot of luck to avoid losing all your bets. But this is exactly what it is about: a game of chance. The bottom line is that you have to set yourself the appropriate limits. This means nothing else than that you can't bet more than you are willing to lose.
If you are ready to play Sic Bo in an online casino after reading our guide, you will soon realize that this dice game is a great combination of excitement and fun. Maybe you will soon belong to the ever growing circle of Sic Bo fans.